---
Assalamualaikum W.B.T and a very good day to all our valued customers,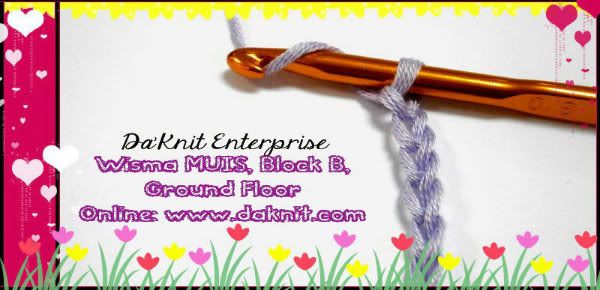 Background:

Thank you for choosing Da'Knit ENTERPRISE to be your first shopping online store.
1.
www.daknit.com
is owned by Da'Knit ENTERPRISE (0000105122-T). We have been selling online since August 2010. Our local shop is located in Wisma Muis, Kota Kinabalu.
2. We sell 100% high quality imported yarns, knitting and crochet tools, craft materials and more. We also supply and sell to retailer who is interested in a wholesale purchase of any product we have in store. Please em
ail us to discuss more.

3. For our online customer, delivery service is as follow: Monday, Wednesday, Friday via POS LAJU, POS DAFTAR and PARCEL AIR MAIL ( parcel air mail = for minimum 1 KG).

4. Contact us:
*sales@daknit.com
*turkishyarns@daknit.com



General Information
We also accept to be your personal shopper under some circumstances, for example, you do not own a PayPal/credit card to purchase things you like on the internet. Do not worry, we will help you purchase them on behave of you under terms and conditions agreed by both parties. Service charge is apply. No hidden fees include. For more information, contact us at sales@daknit.com
Why us?
Our main ambition is to provide you with the best quality yarns and knitting/crochet tools for everyone. We sell variety of yarns, tools and books and we are here to help you find what you need just to make sure that you will always be in love with the arts of knitting and crocheting.

We are here now because of you and you are our best customers. We believe that your trust is our priority, so do not hesitate to put us in your number-one-store-list!

Don't be hesitate to contact us anytime if you have any inquiries, questions, comments and suggestions at sales@daknit.com. We will reply you as soon as possible within 24 hours.

Thank you for visiting our online store.


Alamat Kedai Da'Knit ENTERPRISE (Kota Kinabalu):




Bangunan Wisma Muis,




LOT BG06 Bahagian C, Blok B

,88000


Tingkat Bawah, Kota Kinabalu.




Masa beroperasi: Isnin- Khamis: 8.00 pagi - 12.00 tgh




Jumaat : 8.00 pagi - 2 petang




Sabtu : 10.00 pagi - 2.30 petang




Email kami untuk pertanyaan/bantuan: sales@daknit.com




Tel: 016-823 6159 (talian telefon hanya akan disambut waktu berkerja sahaja)





ANNOUNCEMENT: Starting 1 May 2013, price shown in www.daknit.com is ONLY for ONLINE PRICE and MAY VARY A LITTLE from the price stated in our Local Yarn Store. SHOP -more- ONLINE to get special price when purchasing in BULK (same type and more than 10 balls). Email us for more details at sindarery@gmail.com.

Best Wishes,
Da'Knit ENTERPRISE (0000105122-T)
Retailer & Wholesaler (MALAYSIA NAKO YARNS SUPPLIER)
Kota Kinabalu/Turkey.
http://www.daknit.com


***

Order will be processed after the clearance of payment.

Terms & Conditions:

Items can be insured with additional cost apply. All sales are considered final. No refunds or exchanges are accepted. Prices of every item can be change without prior notice due to the instability of currency conversion. Should the parcel is hold by the Malaysia Custom, the fee/charge will be paid by buyer. We won't be responsible for any lost/damage/stolen parcel during transit. However, we'll do everything we can to make sure that shopping with us is the best experience you ever had and item is safely arrive to you.